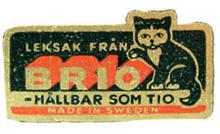 &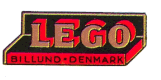 Either there is a connection between the two toy brands BRIO and LEGO is not known. There are no hints in the historie stories of both companies. We believe that a connection must have been excisting. We have, during our studies on old wooden toys LEGO,found some bizarre similarities in the collections of both brands. On this page we see the matches and we will explore the history of BRIO.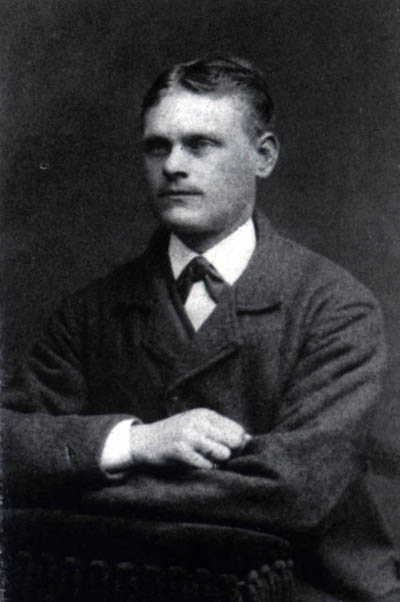 Once upon a time
...there was boy called Ivar Bengtsson. He was born in 1860 and lived with his family in Picketorp, in the south of Sweden. His father died when Ivar was just 10 years old and Ivar's mother, a beautiful woman, soon remarried. Ivar's stepfather wanted Ivar to help support the family at an early age, and Ivar started to work as a farm-wagon operator. It was hard work and Ivar dreamt of becoming a carpenter. He gave almost all his wages to his family, but he kept a little by and saved up so that one day he could turn his dream into reality.r was eens een jongen genaamd Ivar Bengtsson.

77 old Swedish crowns
In March 1878 Ivar's friend Olof Persson came to visit from Bosahult. Olof sold woodchip baskets in Denmark, but at the time he didn't have enough funds to start a new journey. Olof promised Ivar half the profit if he invested the 77 crowns he had saved up and helped sell the baskets. Ivar agreed. They both walked 125 km to Malmö with the chip baskets on a wooden cart, where they took the boat to Denmark. The journey took three days. The boys sold two thousand baskets in two months, and earned a hundred crowns each.

The company is formed
In 1884 Ivar married Sissa Persdotter and they moved to Boalt, a small village outside Osby in southern Sweden. They lived on a small farm, but most important of all it had a small workshop for making baskets. Ivar expanded his range by buying up other goods made in the area, wrought iron from Loshult and kitchen crafts from Visselfjärda. He also began importing oleographs from Breslau, in those days a German city nowadays Polish. All these products he sold in Denmark. However, his most important product was one of his own woodchip baskets.

"The handle sells the basket"
In 1890 Ivar Bengtsson published his first catalogue. Ivar had started to sell more and more in the areas north of Skåne in Sweden, and Denmark was no longer the most important market. His wife Sissa and children, three sons and a daughter, worked in the home to strengthen the baskets Ivar had bought by adding extra chips in the handle. This made the baskets last longer, and Ivar coined the slogan "The handle sells the basket". BRIO's focus on quality products had begun. Ivar labelled his baskets with the text "Ivar Bengtsson's Basket Factory Boalt".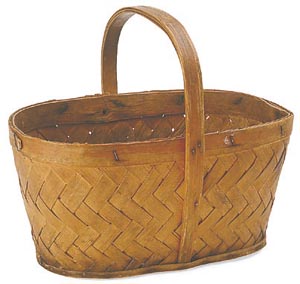 De overgang naar Osby
In 1902 verhuisde Ivar en zijn familie naar Osby. Het was Sissa's idee. Ze besefte dat Ivar op die manier dichter bij zijn klanten was, dankzij de spoorweg en het station in het dorp Osby. Het bosgebied van Göinge had veel rijke bos eigenaren. Ze dachten dat een mandenmaker geen stuk land zou kunnen hebben in Midden-Osby. Daarom werd Ivar naar een minder centrale plek gewezen.

Speelgoed
Ivars bedrijf breidde uit en de reeks artikelen in de catalogus groeide. In 1907 stonden er maar liefst 170 items in en Ivar was ook begonnen met de verkoop van speelgoed. De meest populaire speelgoed was het Göinge paard.


The move to Osby
In 1902 Ivar and his family moved to Osby. It was Sissa's idea. She realised that Ivar could be closer to his customers thanks to the railway in the station village of Osby. The forest district of Göinge had many rich forest squires. They didn't think that a poor basket maker should be able to own land in central Osby. Consequently, Ivar was directed to a less central plot. Ivar's company expanded and the range in the catalogue grew. By 1907 it listed 170 items, and Ivar also began selling toys. The most popular toy was the Göinge horse.

The BRothers Ivarsson Osby
Although there were many wealthy people living in the forest districts around Osby, most were living in poverty. Between 1840 and 1930 over a million Swedes emigrated, mainly to North America. For the vast majority, poverty was the reason they sought their fortune on the other side of the Atlantic. One day Ivar's and Sissa's two eldest sons, Viktor and Anton, came to their parents and told them that they planned to emigrate to America. Ivar and Sissa were dismayed, and Sissa found a way of keeping their sons in Sweden. Her idea was that the sons should take over the firm. In 1908 Ivar and Sissa officially transferred the company to their three sons, Victor, Anton and Emil, and in the following year they registered the new company as Bröderna Ivarsson Osby, (the Brothers Ivarsson Osby).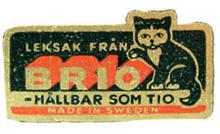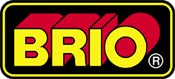 BRIO in 1930.
BRIO opened a new phase in its history in 1930 when the bold BRIO trademark was painted onto the side of two wooden cars distributed by the company. The development of the BRIO brand would become key to the growth and development of the company over the next 70 years. Some five years later the company lent its name to a line of baby carriages manufactured by another Osby firm but distributed by BRIO. By the mid-1930s, when BRIO was officially incorporated as a limited liability corporation, the company was employing 150 people and had achieved annual sales of SEK 4.3 million. BRIO's product line had begun to focus on the wooden toys and baby carriages that would become the core of the company's business.
Although BRIO had been placing its brand name on products distributed by the company since the 1930s, it was only after World War II that BRIO began its own manufacturing concern with the opening of a baby carriage factory in 1947. By the late 1950s the postwar baby boom had come into full swing and BRIO baby carriages became one of the best-selling brands in the country. This success was cemented in 1959 with the introduction of the Sylvana model, the first baby carriage in the world to be equipped with a fully-welded collapsible frame.
BRIO toys received worldwide recognition with the introduction of the BRIO Labyrint in 1946. The wooden maze toy, with its distinctive tilting box, was distributed throughout the world during the 1950s and 1960s and was largely responsible for the original dissemination of the BRIO brand name. Following the success of Labyrint, BRIO began to expand its line of wooden toys for the domestic and international markets. The 1950s saw the introduction of Bygg-BRIO, a wooden construction toy that was the predecessor to BRIO MEC, and, most significantly, the BRIO Wooden Railway, which was to become the best-selling wooden railway in the world and BRIO's most popular toy ever.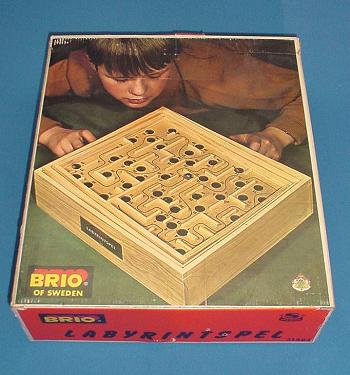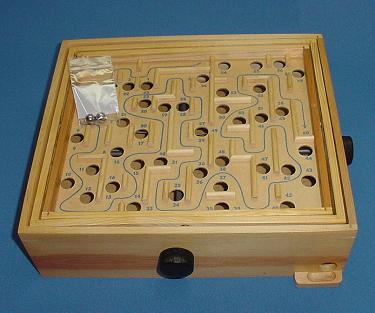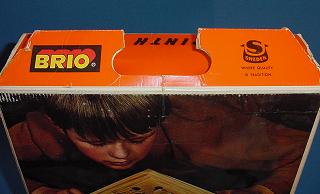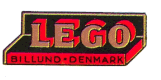 LEGO at that time.
In 1916, the 25-year-old carpenter Ole Kirk Christiansen took over te workshop in Billund from Steffen Pedersen. Ole Kirk was trained in 1911 as a carpenter and cabinetmaker, and he had worked in both Germany and Norway, he had saved so much that he could call himself the owner of Billund Maskinsnedkeri Tømrer.
In 1934, two years after he had re-started the manufacture of wood products and wooden toys, the now 43-year-old Ole Kirk was a prestigious man who was responsible for the construction of a church, dairies, mission houses, many farm buildings and residential dwellings. He was a lender, and its last activity, toy production, by the author of an article from that time regarded as suitable for export. This jack was impressed that he saw his workshop twice destroyed throug fire, and again built up from the ground to a number of buildings that still exist in Billund.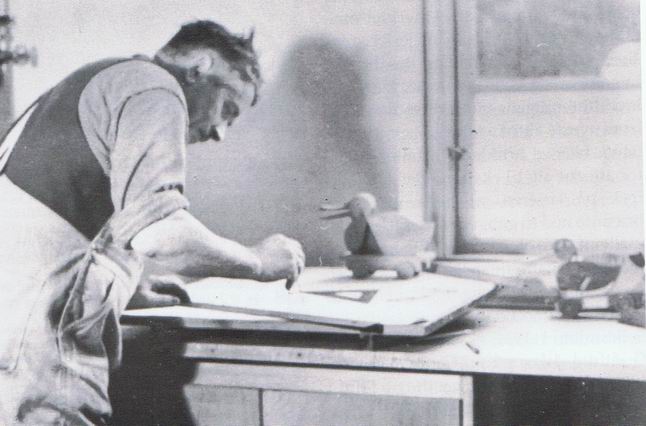 The connection between BRIO and LEGO.
It could be that LEGO and BRIO had a license to sell each others products in the years 1940/1950. The objective could be that LEGO after Denmark wanted to conquer several Scandinavian countries with its wooden toys. But as mentioned, this is not based on identifiable facts, but on an assumption. Below are the articles that we found in both collections of toys as well.
Back in the day it was common to copy each other. The knowledge of copy right protection was not widely known (toys and the making of toys was considered simple and not of so high status in the beginning of the 1900´s)
BRIOs first logotype came 1934. On LEGO's home page you can see that their logotype from 1940´s looks very much like BRIO´s.
It is known that BRIO had a collaboration with TEKNO but there is noting known about a collaboration with LEGO. TEKNO bought toys from BRIO and was allowed then to use their own logo on the BRIO toys. Perhaps BRIO and LEGO had a collaboration also. The people who made these type of agreements are no longer with us and can sadly not answer this. Sure BRIO has produced plastic toys also. In the middle of the 1900´s no one was ashamed of saying BRIO plastic and wooden toys.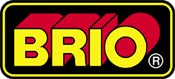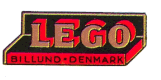 BRIO pulldog 'PLUTO'
LEGO pulldog 'PLUTO'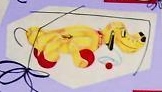 BRIO car with driver
LEGO car with driver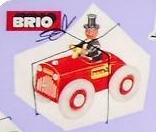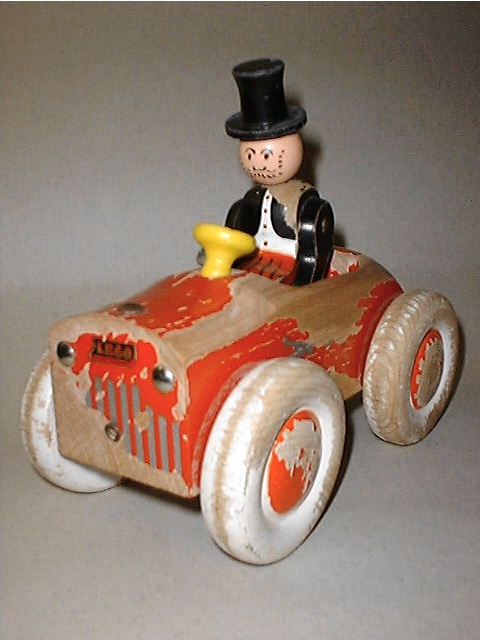 BRIO toysoldier
LEGO toysoldier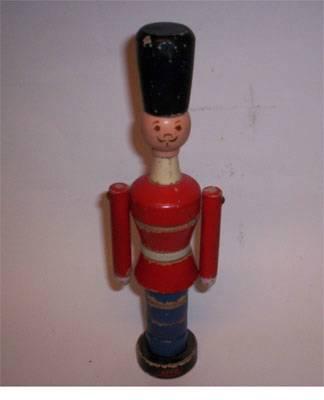 BRIO plastic Farmall H tractor
LEGO plastic Farmall H tractor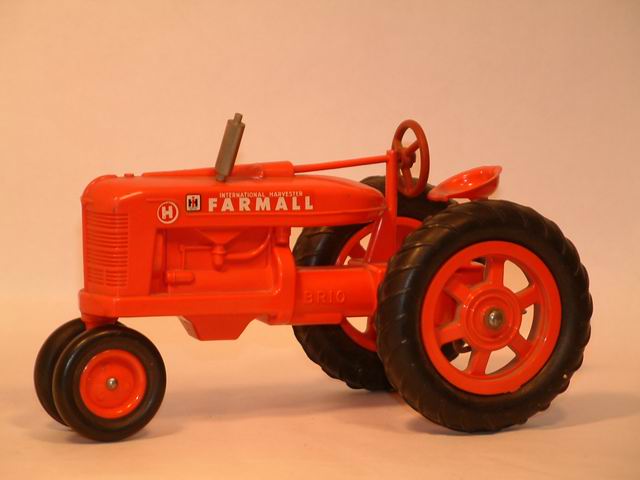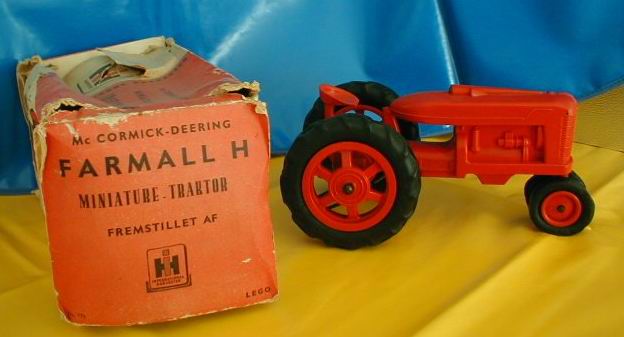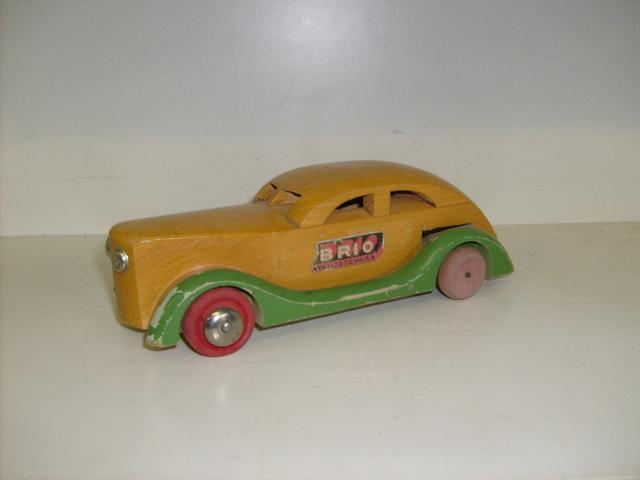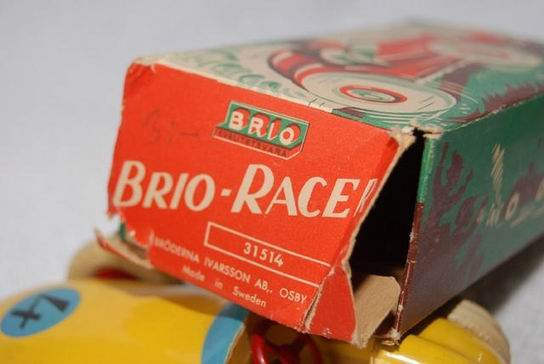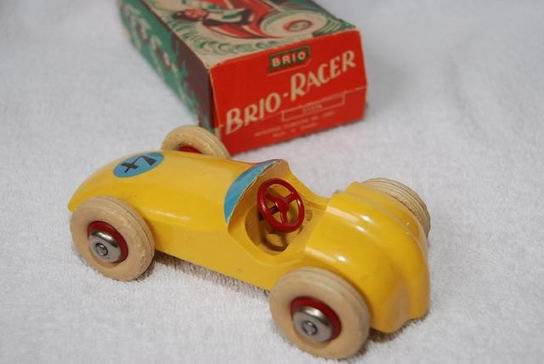 BRIO plastic and wooden construction toy BRIO MEC
LEGO plastic and wooden construction toy BILOfix