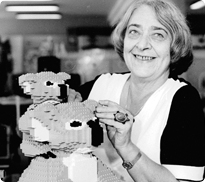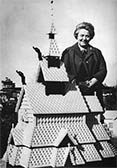 Name: Dagny Holm Jensen
Born: 18th of May 1916.
Education: Classically Trained Sculptor/Modeler
Dagny Holm had always been closely connected to her creative side. At the age of 19, she was hired by her uncle Ole Kirk Christiansen, to spend three months working for the then working for the then wooden-based toy company. During this time she drew models for a variety of projects including; train sets, imaginative fairytale figures & coat hangers.

Her following 25 years would most significantly be colored by an 18 year marriage to Gustav Jensen, their life in Copenhagen, plus a private education in Classical Sculpturing.

In 1960 Gustav passed away and a year after the demise, Dagny would move from the Danish Capital and return to the toy factory in Billund. Since her previous contract there had been some fundamental changes. Most importantly, the core material wood, had been replaced by a very special, strong blend of plastic that should be known as the LEGO Brick. The new material opened up for endless designs and building options.

Still Dagny needed time, time to adjust to the thoughts & ways of modeling with the LEGO bricks. The constructional way of building with the LEGO elements was very different from the soft leather material that she had previously worked with. However, when she finally got comfortable with the building principles, she was able to fully embrace the idea, and take the new, colorful, plastic bricks to her heart.

In 1963, during the early discussions outlining the LEGOLAND Park, there was no doubt of who to put in charge of the creative works., Dagny´s large scale models built with humor, inventiveness and solid craftsmanship soon became the image of the brand, embodying the imagination of adults as well as children all over the world.

As a lively, charming, loud, devoted, stubborn, humorous, and witty natural talent, she had by far succeeded as woman in a man's world. Due to her unique talent and visualizations, her workload inevitably increased to the point that it required a team of builders. Millions of bricks would pass through the hands of Dagny´s team, entering from one side as basic elements, then brought out as impressive works of art on the other.

Dagny didn´t just spend time on the bricks because it was her job. As a true artist her bricks became an undeniable passion. In her private life she began to think and translate her surroundings into LEGO elements, and one time she caught herself on a train in Copenhagen, studying, calculating, and wondering… how many bricks for that nose, how many bricks for that face? She would also make personal gifts to her closest ones, and in the 60´s, she created a set of Angels for the Kirk Christiansen family. These four Angels have been a part of the family´s Christmas tradition for more than four decades.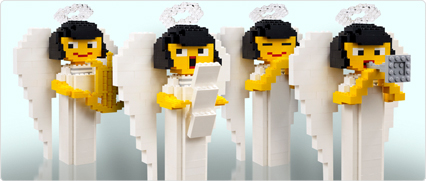 These four Angels have been a part of the Kirk Kristiansen family´s Christmas tradition for more than four decades.
True artists express themselves using any material they have at hand. For Dagny, it was her love and passion for the basic elements. Her passion brought life to an amazing collection of LEGO designs, and would further inspire thousands of builders across the globe. It is well deserved that Dagny, by many LEGO fans & lovers, is still considered The First Lady of the basic elements.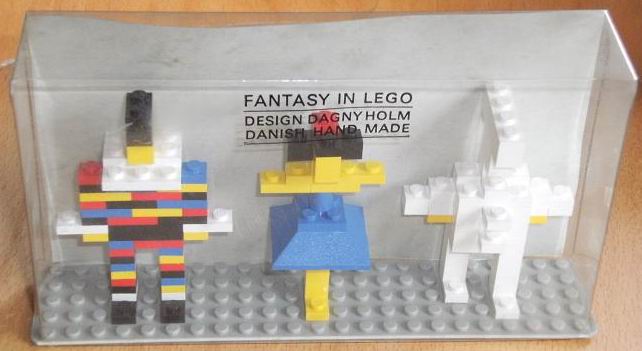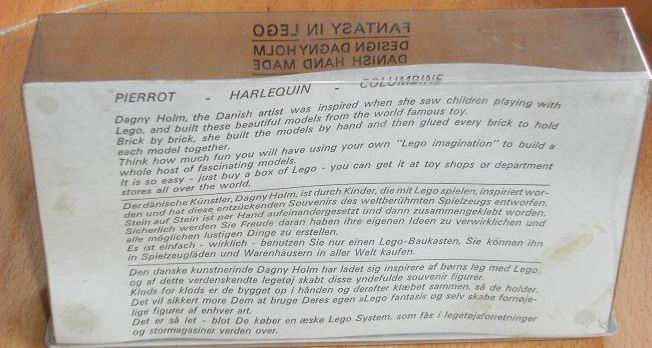 About the Dagny Holm Set: The Set is complet fixed with Plastic-Glue.

The Set was not for Sale, Dagny Holm issued a small Lot of this Sets ,

as Gift for bigger Lego -Dealers , to give them an nice Decoration for

the Lego Shop.