Tochigi (Japan) -

Het

Nasu Highland Park in Japan heeft in begin april een LEGO evenement gehad. Daar is deze space shuttle gebouwd, het bevat 65.000 LEGO stenen en is door twee mensen gemaakt in 1.590 uur. De grootste LEGO space shuttle ter wereld heeft een eigen commandocentrum, compleet met een rode countdown knop. Aan het eind van het terugtellen (countdown) starten flikkerende lampen, raket geluiden en een rookmachine, om de lancering zo echt mogelijk te laten lijken (zie video). Al is de space shuttle al de grootste van de wereld, ook de toren naast de shuttle is een record: de grootste LEGO toren ter wereld!

De shuttle en toren zijn op 3 april 2009 voltooid!
---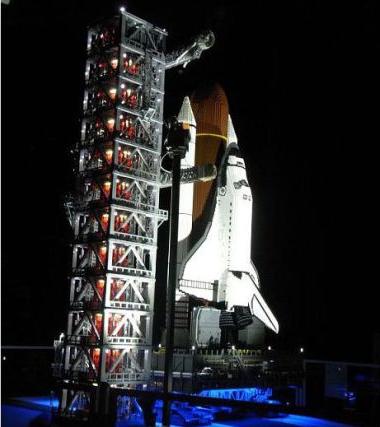 Tochigi (Japan) -

The Nasu Highland Park has some sort of a LEGO event going on. That's where this space shuttle is from, it took 65000 LEGO bricks and was completed by two people in 1590 hours. The biggest LEGO space shuttle has a command center of its own, complete with a red countdown button. At the end of the countdown, flashing lights and rocket booster sounds complete the show. Awesome as the space shuttle is, the event will also have the

world's highest LEGO tower that should be completed by April 3. Video after the jump!
---